Scaled Agile Framework
How to succeed with the Scaled Agile Framework (SAFe)
The Challenge
Frameworks with training and implementation guidance can help your organization accelerate the change adoption process. The Scaled Agile Framework for Lean Enterprises (SAFe) is the market-leading solution and as a SAFe Gold SPCT Partner, Agile Rising specializes in helping organizations successfully transform your organization through SAFe.
You have already been working with an internal change agent on your transformation, or perhaps you are that internal agent. Still, you have struggled with getting executives and leaders on board with investing in necessary change. Agile Rising SAFe Program Consultants are here to bolster your efforts. SAFe is comprehensive and addresses most, if not all, critical challenges associated with enterprise Lean-Agile transformation. Knowing when and how to implement SAFe can be a daunting task for agents and teams that are new to scaling frameworks.
You are an executive or leader seeking out ways to conquer digital transformation but have run into challenges with building alignment and shared commitment from your managers and teams. Let Agile Rising SAFe Program Consultants help you build a vision for change that is sustainable. We will work with you and your team to create a plan that sets the stage for success by scripting the critical moves and being prepared to anticipate and actively manage risks.
Experience Matters
Only SAFe SPCT Gold Partners are validated by Scaled Agile to have real-world experience successfully implementing SAFe within multiple organizations. Agile Rising's consultants have been helping companies and government agencies successfully implement SAFe since 2013. We specialize in helping leaders drive Agile transformations, train leadership, finance, program and product management, core team members, and be your guide on this complex journey.
Our Solutions
When your organization reaches the tipping point and you know what you need to do — change the system — the next question is nearly always, "How do we do it?" SAFe is an excellent answer for large organizations that need to act quickly and decisively creating momentum by investing in world-class guidance and training assets.
Adopting SAFe is complex, you need an experienced partner to help you navigate the change.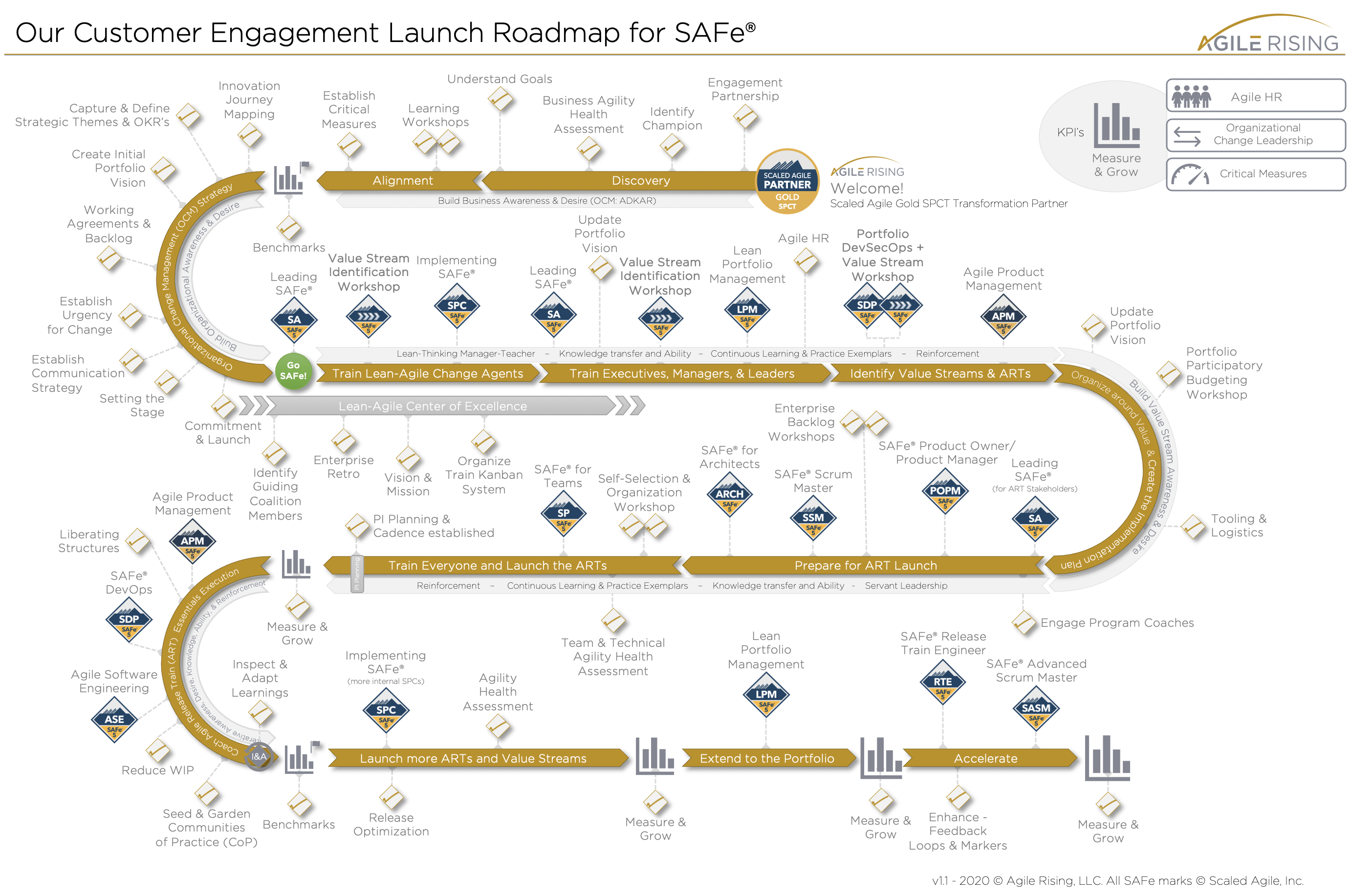 Contact Us!
You need a skilled partner that has experience transforming organizations with SAFe.

Our Approach
SCALED AGILE GOLD SPCT TRANSFORMATION PARTNER
Our approach for implementing SAFe is based on the SAFe Implementation Roadmap. Additionally, we have a unique approach that adapts and binds organizational change leadership along with Kotter's 8-Step Process. This approach sets Agile Rising apart and allows us to tailor our solutions to your challenges.
Agile Rising focuses on helping to optimize your entire organization with the latest research into organizational effectiveness and innovative management practices. Our experienced transformation consultants help you define a strategy, build a corporate design, create a roll-out plan, & select tools and frameworks tailored to your organizational and business needs.
We specialize in partnering with senior leaders from across the organization, including IT, Business, Finance, HR, Sales, and Marketing, to form a guiding coalition that is prepared for organizational change leadership. Our goal is to help you build a system that optimizes the entire enterprise.
We help to address some of the largest challenges that organizations face when trying to scale Agile and DevOps: changing funding and budgeting models, aligning strategic planning cycles, and implementing Lean portfolio management. When you are ready to move beyond training and coaching development teams and want to apply Agile and Lean across your entire organization, Agile Rising is the partner you need.
To be successful in any transformation your organization will need experienced change leaders.
To ensure a high level of success, rely on battle-hardened transformation change agents from Agile Rising to serve as thought and practice leaders in your organizational change management (OCM) plan.
Set the stage for success by scripting the important moves (Switch – Heath & Heath). This can be accomplished by bringing in the right team of external change agents to power up your transformation.
We need a complete cross-functional team that is dedicated to the success of the transformation. And like every Agile team, it needs a leader, a backlog, and people to do the work. Let's call it a guiding coalition. Defining the purpose and mission for this team is a top priority on our list of activities to accomplish in our discovery cycle.
Digital Transformation with SAFe and TBM
If your organization is undergoing a digital transformation that is driving very difficult spend and value discussions, let us help you build some new organizational instincts. Taking an enterprise systems view to your complex product and service delivery may help you choose where to start to develop patterns for success. Using the Technology Business Management framework practices in parallel with SAFe can enhance your organization's ability to achieve business agility.
If your IT group struggles to justify spend and the business is always frustrated with delayed schedules and quality issues, perhaps it is time to shift thinking to value conversations. TBM and SAFe work well together as complementary bodies of knowledge with in-depth insights and guidance on how you can build a new system that feeds on learning rather than struggle.
SAFe® For Enterprise
SAFe for Lean-Enterprises is a ground-breaking offering that enables fast, effective training across an entire organization. Building a continuous learning culture is a complex task. SAFe for enterprise enables a culture of continuous learning through access to education.
Through the learner subscription your organization will gain access to:
Unlimited access per learner to all courseware for the life of the agreement
Access to all courseware provided by a SAFe Program Consultant (SPC)
Quarterly check-ins to review SAFe adoption progress and your enterprise priorities
Access to certified professionals in an exclusive Community of Practice (CoP)
SAFe Certifications and renewals for the team
SAFe for enterprise is an excellent solution for groups of all sizes. Access to the learner subscription gives organizations and teams the flexibility to more quickly scale their lean-agile transformations.